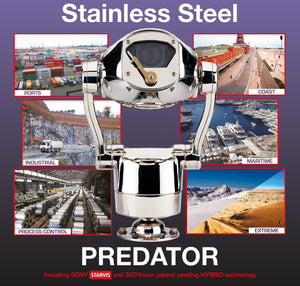 360 PREDATOR STEEL Ultra Rugged Stainless Steel HD PTZ Camera
360 Vision Technology
Regular price $0.00 USD Reduced
The Predator Steel Hybrid HD ultra-rugged motorized PTZ camera designed to withstand the toughest of operational environments such as petrochemical, aviation, oil and gas, ports, and onshore/offshore marine surveillance applications.
PREDATOR STEEL features:
Anti Corrosive Stainless Steel: 316L Polished Stainless Steel, Built and designed for harsh environments
Built for extreme environments: -40C to +60C temperature range and certified IP68 for the harshest of environments
Extreme Low Light Performance: Incredible starlight and near infrared picture quality
Hybrid imaging: Simultaneous HD 1080p IP + analog video outputs and control
Multiple control protocols: ONVIF 'S' complaint or 360SDK IP controls plus 360 (RS485/Coax), Pelco (P/D RS485/Coaxitron), VCL (RS485/Coax), Forward Vision and Ultrak (RS485) analog protocols
Built-in edge recording option: Continuous/FTP Upload/Network Loss/Alarm Scheduled recording option to On Board Storage.
PREDATOR options include: Pre-made cables of 3, 10, 25 and 40m, Wiper systems, Twin IR lamp, Wall, Corner and Post Mount brackets, Mounting adapter, PSU and Washer system. 
Datasheets/Literature
 Related Products: