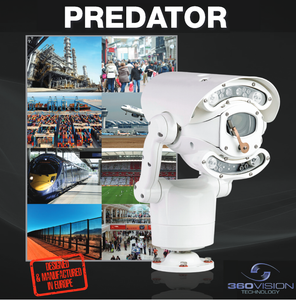 360 PREDATOR ULTRA High Speed Rugged HD PTZ Camera
360 Vision Technology
Regular price $0.00 USD Reduced
The PREDATOR range of rugged, high speed PTZ cameras offer exceptional quality and reliability to operate in the harshest environments with totally smooth operation with incredibly accurate preset positioning.
HD PREDATOR IP camera features:
Multiple protocol support allowing quick and simple integration with many leading DVR's, matrices and Video Management systems.
Ultra low light, Full HD 1080P (1080p) image resolution
Available in 20x, 30x and new 40X Optical Zoom configurations
Choice of on-board lighting arrays offering long range Infrared ( up to 550m) and high intensity Ultra Bright White light LED (up to 225m) for superb Night Time CCTV images in both monochrome and colour!
Datasheets/Literature
Video Demo
 Related Products: