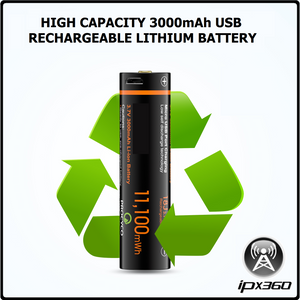 3.7V 3000mAh USB Rechargeable Lithium Batteries for Wireless HD 4G PIR Camera (2-pk)
IPX360 Solutions Inc
Regular price $34.99 USD Reduced
Set of 2 Lithium High Capacity Externally Rechargeable Batteries for use in OCULi-HD 4G Wireless PIR Cameras. Includes adapter sleeves to fit inside camera battery compartment and micro USB splitter charging cable

Rechargeable 3.7V Li-ion batteries with 3000mAh capacity for extended power and reliability. To recharge, simply connect the included 2 in 1 USB cable to the built-in micro USB port located at the top of the battery to any USB port. The LED indicator will switch from red to blue once charging complete. Fast and simple! No additional battery charger required!
Specifications:
Battery Type: 18J 3.7V Li-ion Rechargeable Battery
Capacity: 3000mAh (11,100mWh)
Recycle time: up to 1200 times
Charging Time: about 4 Hours
Charging Current: 5V/1A (5V/2A recommended)
Notice:
These batteries should only be recharged externally using a USB port and included cable. 18J batteries should not be used when OCULi-HD camera is connected to external power source or optional solar kit. Attempting to recharge using internal charger or any other type of charging device may pose a fire or burn hazard, damage your camera and void warranty.
Related links: