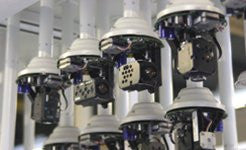 360 Vision VCL Camera Replacement Bayonet kit
360 Vision Technology
Regular price $1,399.00 USD Reduced
That VCL Motorized PTZ Dome Cameras can still be repaired!
Universal Bayonet Kit fits into existing VCL dome camera housings.
Universal Bayonet Kit for installation inside VCL Orbiter and Orbiter Gold Housings, plastic or metal, dating back to 1995. The bayonet is adjustable to allow for the various bayonet lengths used by VCL through different model/years. 
Kits are available in original 18X, 28X or 36X optical zoom configurations, simple to install and are covered by 3-year warranty.
Note: For external domes, black inner liner from VCL dome has to be removed
 Questions? Click Here to chat with our Live Support Team
*** Special Order Item - This is a built to order part which usually ships in 2-3 weeks. You will receive a precise delivery estimate once order is placed. Your credit card will not not be charged until item is shipped.
All special order parts are non-refundable.