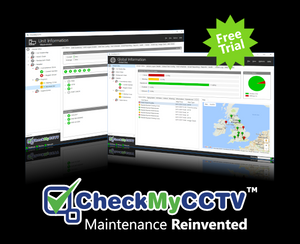 CheckMyCCTV Automated CCTV System Status Monitoring (FREE TRIAL OFFER)
CheckMySystems
Regular price $0.00 USD Reduced
Is your CCTV Security System working right now?
Get alerted of system faults before they become critical.
CheckMyCCTV software automatically and autonomously monitors and checks your installed CCTV sites every hour, detecting and reporting faults and issues using before they become critical.
CheckMyCCTV automatically performs these essential maintenance checks every hour of every day to ensure the integrity of your CCTV and Video Management systems:
Connection Issues - Reports when the connection to the CCTV system fails.
Camera Failures - Detects if a camera has developed a fault or tampered with.
Hard Disk Failures - Detects hard disks failures or if it stops recording.
Recording Issues - Reports if the system records for less or more time than expected.
Time & Date Inaccuracy - Reports when the time is incorrect or tampered with.
CheckMyCCTV is compatible with a wide range of CCTV Systems and brands available on the market and is an affordable, highly scalable solution for monitoring anywhere from a single location system to hundreds and thousands of sites.
CheckMyCCTV is currently being used to proactively detect any system issues in major Retail, Hotel and Restaurant chains, Banks, City Governments, Industrial and Unmanned sites around the World.
Try before you buy offer: See how CheckMyCCTV can work for you!
For a limited time, order a No Charge, No Hassle, No Obligation 30-Day Trial to evaluate CheckMyCCTV with your own system.
Simply click on the REQUEST INFORMATION/QUOTE and fill in the online order form. You will be contacted by one of our team members with instructions and assistance on getting started. 
Note: Limited time offer available to qualified CCTV Installers or Monitoring Stations with primary business location in Canada or United States. Certain restrictions apply. Offer may end at any time without notice