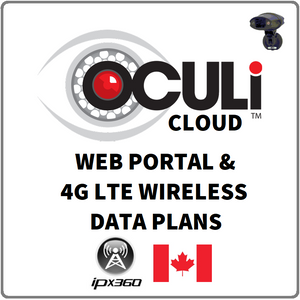 OCULi CLOUD Web Portal and 4G/LTE Wireless Data Service Plans for Canada
IPDS
Regular price $0.00 USD Reduced
IPX360 Solutions offers a custom range of OCULi CLOUD with 4G LTE Data Service bundles designed especially for our OCULi-HD Wireless 5MP HD 4G PIR Camera Systems.

A OCULi CLOUD Web Portal account with an active SIM card and Data Plan are required to use the OCULi-HD Camera system. OCULi CLOUD Web Portal service is available bundled with or without a SIM.

NOTE: PLANS ARE INTENDED FOR APPROVED CONNECTED OCULi / LUMINITE 4G DEVICES AND ARE FOR USE IN CANADA ONLY. PLANS ARE NOT INTENDED FOR VOICE OR TEXT (SMS). Other conditions apply.
Contact us for details
Related links: