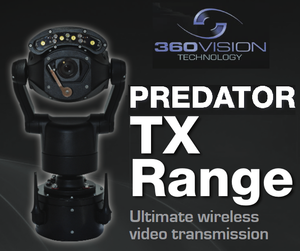 PREDATOR-TX Heavy Duty Wireless 4G PTZ HD Camera System
360 Vision Technology
Regular price $0.00 USD Reduced
The PREDATOR-TX wireless 4G/LTE 'all-in-one' complete CCTV surveillance camera system solution with edge recording capacity and wireless transmission, ideally suited for public safety, crowd management and unattended site or asset protection
The PREDATOR-TX provides a reliable wireless video transmission solution using highly efficient video compression with unique minimal latency for optimal performance in difficult wireless video transmission environments,
Suitable for rapid, temporary or permanent deployment applications, the ultra-reliable
TX Range offers an integrated 'Plug & Play' surveillance solution with easy setup. Simply insert any data SIM card (cellular version), add power and the device is ready to go, connecting the moment it is switched on.

With complete control of bandwidth used, you can choose the resolution and frame rate to transmit, dependent on the bandwidth available. Switch dynamically between low and high bandwidth video streams, dependent on networks capability, adjusting video quality to suit.
With the latest optimized video compression and unique, low latency transmission technology – which is fully encrypted and secure, users can be assured of dependable performance.